Business Hours: Monday – Friday 8:00 am – 5:00 pm | Lunch: Noon – 1:00 pm | Closed for Federal & Tribal Holidays
Gateway to Canyon de Chelly National Monument
The Navajo people call this area Ch'ini'li which means "where the water flows out" to describe the location of the water flowing out from Canyon de Chelly. The Chinle community is situated in the center of the Navajo Nation and was established after the Navajo people returned from the Long Walk when thousands of Navajos were forced from their homes to march over 300 miles to Ft. Sumner, New Mexico. After the Treaty of 1868 was signed, Navajos returned to their homelands and many families came back to this area.
Missions, schools, and trading posts were established to help Navajos adjust to a new way of life. Chinle became a major trading center with the canyon attracting visitors from around the world. Thunderbird Lodge was the first trading post, Lady of Fatima Catholic Church was the first mission and Chinle Boarding School was the first school.
We welcome visitors from far and near who come to see the breathtaking views of the canyon or come to seek the services provided in Chinle.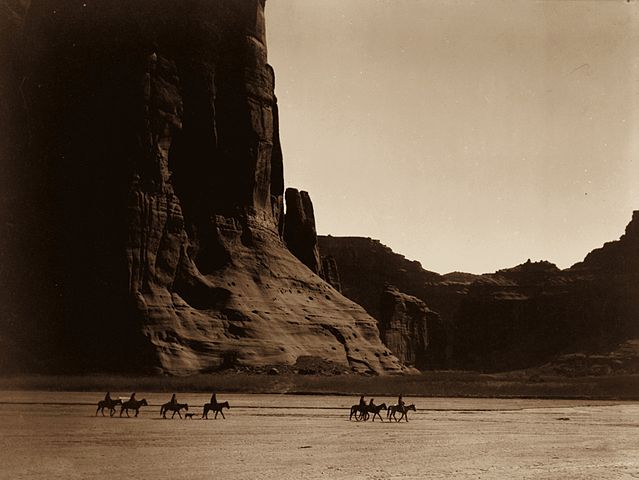 Chinle serves as the Gateway to Canyon de Chelly where the canyon has provided food, water and shelter for groups of people for over 5,000 years including Archaic, Basketmakers, Ancestral Puebloans, and Hopi. Today, about 40 Navajo families live and farm in the canyons which limits access into the area. Nearly 84,000 acres of tribal lands were established as Canyon de Chelly National Monument under the National Park Service by President Herbert Hoover on February 1, 1931. To better manage the park, the National Park Service is working with the Navajo Nation, Bureau of Indian Affairs and other stakeholders to establish a cooperative management agreement.
Spider Rock is one of the most notable areas in the park. A Welcome Center is located at the entrance of the park featuring maps and a bookstore. As a non-fee park, the scenic drives are open year round. Please note that the White House Overlook and Trail are closed until further notice. We welcome you to our community.
February 2022
On-Line Only
02/07/22@ 5:30PM = Planning Meeting
02/22/22@ (as Monday is Hoilday)
March 2022
On Line Only
03/07/2022@ 5:30= Planning Meeting
03/31/2022 @ 5:30PM = Regular Meeting
April 2022
On Line Only
04/4/2022 @ 5:30PM = Planning Meeting
04/19/2022 @ 5:30PM = Regular Meeting
May 2022
05/02/2022@ 5:30PM = Planning Meeting
05/16/2022 @ 5:30PM = Regular Meeting
June 2022
06/06/2022 @ 5:30PM = Planning Meeting
06/16/2022 @ 5:30PM = Regular Meeting
July 2022
07/5/2022@ 5:30pm Planning Meeting
07/18/2022 @ 5:30PM = Regular Meeting
Your Title Goes Here
Your content goes here. Edit or remove this text inline or in the module Content settings. You can also style every aspect of this content in the module Design settings and even apply custom CSS to this text in the module Advanced settings.